The pandemic has caused a shift in office design and work has become more hybrid. Once a trend, this way of working is now becoming the norm and while individuals are demanding hybrid working, Companies can also see the benefits of it. While woman have been advocating for flexible working hours for decades and despite research highlighting how outdated the 9-5 model is, it has taken a pandemic to make a shift in working behaviours and people's attitudes. We have highlighted some changes that we think have become more than just trends in office behaviour and are here to stay.


Connection and community   
Workspaces are being designed with a more community feel and aesthetic. Work environments are and will be more agile and welcoming. It's not just about the companies and what they are producing, but there is now a focus on what is going on in the inside and the people who make them up and their wellbeing.
We can already see how agile working benefits the workers and creates a sense of community as it allows workers to choose where they want to work depending on the type of work they need to do. It gives them not only spaces and choices but autonomy. This hybrid way of working breaks down barriers and enables more meaningful connections.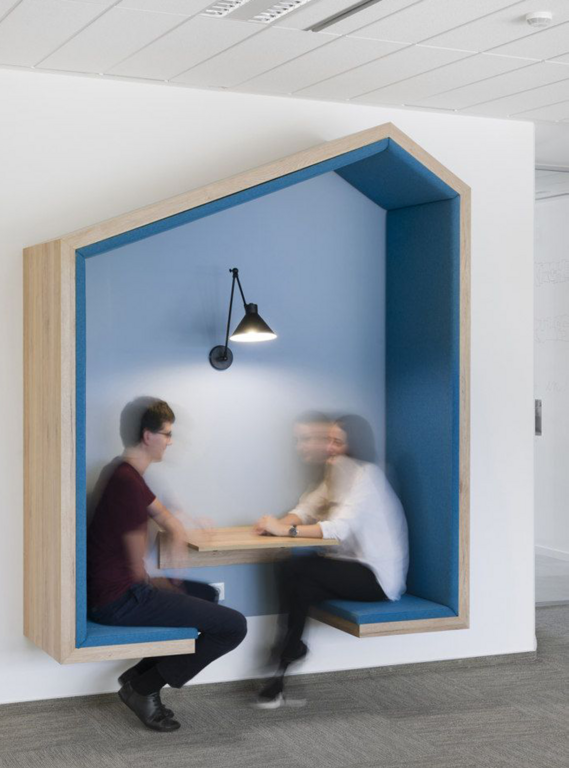 Sustainability
Sustainability is here to stay and will not be going away anytime soon. Office design will be focused around trying to recycle office furniture where possible and engaging in circular design. Companies will continue to try and reduce carbon emissions and there will be less green washing as the need for companies to become more transparent will become a requirement. 


Neurodiversity
Every individual is different and will experience and interact with the world around them in different ways and so their working requirements are different too. Companies are moving towards creating a work environment that takes into account the diverse thinkers. This involves looking at things like noise, air quality and lighting.  For example, creating distraction free areas to work, good acoustics and breaking up a space into quiet and noisier areas. Using a wider variety of lighting to create a better atmosphere in which to work, such as desk lamps, floor lamps and overhead lamps.


Focus on health and wellbeing
The continuing focus will also be on well-being and how this can be translated into Workplace Design. More companies will begin to offer on-site childcare facilities, gyms, yoga sessions and sleep zones which will all contribute and enable people to work more productively. 


The traditional way of working where everyone has their own desk and is expected in from 9-5 is outdated and workers are now beginning to expect more from their working environment. We are sure that along this new pathway that Companies are navigating there will be some challenges but we feel these new behaviours have a positive impact for everyone. 


If you want to have a chat or speak to us about your future Office Design needs, please drop us a line at info@vanderpollwhitedesign.co.uk